Categories
Shop by supplier
Information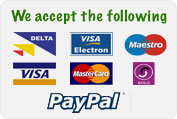 P 70 Electric Fence Tester.
P 70 Electric Fence Tester.
This Electric Fencing Tester not only shows if there is power on the line, but also the strength / voltage.

The six lights give an indication on the fence line; If 3 or more lights lightup, the fence is operating satisfactorily.

If 1 or 2 lights only are showing there is either a problem with the fence shorting out or with the battery.

Electric Fence line voltage tester.

Indicates strength of the electric fence or electric netting.
back to Chicken Fencing
Read More...
No other images available
Other products you might like

Lead Out Cable. 25 Metre
Price: £17.32

Hotline Shrike Energiser
Price: £79.96

Hotline Gemini 120 Electric Fencing Unit.
Price: £133.26 £111.05
Hotline Falcon P500 Electric Fencing Unit.
Price: £177.68