Pigeon Decoy Full Bodied Head Up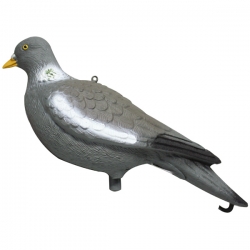 Pigeon Decoy Full Bodied Head Up
Realistic full sized pigeon decoy
Accurately coloured and textured full bodied pigeon decoy.
Bright white wing and neck bars
Head up position
Supplied as a single item
Read More...
No other images available
Other products you might like
Sonic Electronic Bird Scarer.
Price: €57.06

Magpie Cage Trap. 4 Compartment.(Octagonal)
Price: €150.00

Round Multi Catch Magpie Trap. No stock until November
Price: €99.00
Solar Power Kit for Bird Scarers.
Price: €27.54

Hunting Barn Owl Decoy.
Price: €24.59

Pigeon Cage Trap.
Price: €85.00