Categories
Shop by supplier
Information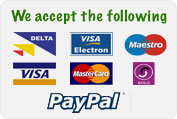 Brexit & UK Orders
The UK has now left the EU and this poses significant changes to the way we do business with the UK. Gone is the free movement of goods of which we have become accustomed to.
At present due to customs issues and back logs we cannot ship to private addresses in the UK or to non vat registered customers in the UK. So all orders to end users have been suspended until customs back logs are cleared and more clarity is given as to what happens to goods when they arrive at our customers doorsteps. We want a solution so that you the customer in the UK does not pay any extra costs.
Deliveries to Northen Ireland and in the Republic are unchanged.
Deliveries to our trade partners in the UK buying Pallets or Full Loads of goods remains unchanged though delays of upto 1 week on delivery times are to be expected over the next couple of months because of UK customs.