Categories
Shop by supplier
Information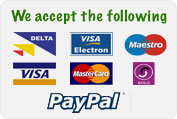 Brexit & UK Orders
The UK has now left the EU and this poses significant changes to the way we do business with the UK. Gone is the free movement of goods of which we have become accustomed to.
At present due to customs complications & warranties of goods we cannot ship to the UK.
Deliveries to Northern Ireland are as normal.