Categories
Shop by supplier
Information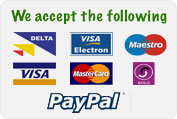 Neck Inflatable Pillow. Gelert
Neck Inflatable Pillow. Gelert
A quick to inflate pillow ideal for taking travelling and also great whilst camping.
Perfect for Train & Plane journeys or for kids & passengers in cars.

Inflatable camping pillow.
Colour: Black.
Inflated Size: 46 x 28cm.
Read More...
No other images available
Other products you might like
Stainless Steel Travel Tumbler. 450ml
Price: €9.50

2 Man Pop Up Tent. Pink
Price: €40.00
Comfort 200 Sleeping Bag - Red.
Price: €20.00

Kampa Brighton 3 Tent - Grey - 2019
Price: €80.00
Kampa Annecy Sleeping Bag. Blue. 2 Season.
Price: €22.00