Categories
Shop by supplier
Information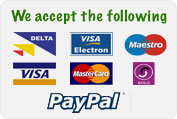 Roast Master Gas Hob & Oven.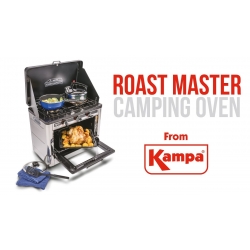 Roast Master Gas Hob & Oven.
The New Roast Master Oven & Hob from Kampa allows you to cook all your favourite dishes from the comfort of the campsite, ideal for cooking & heating food up outdoors.
This unique new product brings a whole new meaning to cooking whilst camping, whether it be your traditional Sunday roast, jacket potatoes, cakes or muffins – the Roast Master can do it all.
Highly popular the Roast Master is in a class of its own and is a must have accessory for avid campers.
Features: 2 in 1 combo hob and oven
Combines compact size, portability and cooking power – overall size: W 540 x D 310 x H460 mm*
Stainless steel insulated shell
Porcelain enamel hob top
Hob with two powerful, fully adjustable, brass burners – up to 1.5kW each
Matchless ignition – just turn control knob to ignite hob or oven
Lid and windshields protect burners in windy conditions
Large oven - size W 410 x D 275 x H 210 mm
Powerful 1.0 kW oven burner with flame failure safety device (FFD)
Oven temperature fully adjustable – up to 300˚C
Porcelain enamelled oven interior – easy to clean
Glass viewing window in door
2 removable chrome plated shelves
Oven temperature gauge
Dual carrying handles
Works from most popular gas cylinders with appropriate regulator (not supplied)
Weight: 15 kg
Requirements for operation: Butane or propane gas cylinder (not supplied*)
Outdoor use only.
Gas regulator – 28-30 mbar for butane, 37 mbar for propane (available separately)
Gas hose (BS3212:2) – maximum length 1.5 metres (available separately)
We can supply gas cylinders, hose, clips & regulators. Please call for assistance.
Read More...
Other products you might like
Campingaz 907 New Cylinder & Refill
Price: €110.00

Gas Hose Clip / Jubilee Clip
Price: €1.00

Gaslight & Patio Gas Regulator 37 mbar
Price: €14.00
Gaslight Gas Cylinder & Fill. 5kg.
Price: €65.00

Gaslight Gas Cylinder & Fill. 10kg.
Price: €75.00

Kampa Campingaz Regulator & Hose Pack.
Price: €20.00