Categories
Shop by supplier
Information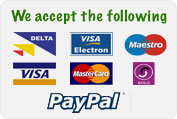 Mink Cage Trap. Single Entry.
Mink Cage Trap. Single Entry.
A well made mink cage trap also suitable for squirrels.
Protective handplate and carrier handle for easy handling.
Long lasting galvanised mesh design.
Easy to set with positive spring loaded trigger action.
Size: 600 x 190 x 190 mm
We advise mink traps to be baited with fish or fish based cat food.
Mink traps must be checked at least twice daily.
Mink must be dispatched humanely & not re released when caught.
Mac Eoin General Merchants Ltd are Irelands largest supplier of Traps, Snares & Vermin Control Products.

We have been supplying NPWS, Coillte, Teagasc, NARGC & Department of Agricultrure for many years with Traps, Snares & vermin control products.
Mink Trap.
back to Vermin Control And Traps
Read More...
No other images available
Other products you might like

Top Netting 1.5 Inch Square Mesh. 32' x 32'
Price: £79.96

Mark 6 Springer Trap / Fenn Trap
Price: £11.55

Mink Cage Trap. Double Entry
Price: £29.32

Grey Crow Cage Trap. Heavy Duty 4 Compartment.
Price: £124.38

Buckwheat. 1/2 Acre.
Price: £39.09