Categories
Shop by supplier
Information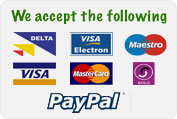 Nipple Drinker for Poultry & Game
Nipple Drinker for Poultry & Game
Make your own Poultry Drinkers with our Screw In Poultry Nipples.
Screw into the lid of a Coke Bottle to make a Drinker or screw several nipples in the base of a bucket to make a Drinker.
Can be used for poultry cage systems & breeding pens by screwing into pvc pipe.
These are low pressure nipples. Will not work off mains pressure.
Read More...
No other images available
Other products you might like
Large Automatic Cage Cup Drinker.
Price: £4.44

Straight Connector for Drinker Pipe. 5.5mm
Price: £1.02

Tee Piece Connector for water pipe. 5.5mm
Price: £1.02
3 Litre Drinker & 3 Kg Tube Feeder Combo
Price: £11.99 £8.88

6kg Outdoor Feeder & 10 Litre Drinker Combo Set
Price: £23.10
Poultry Drinker Pipe 5.5mm. 100 Feet Roll.
Price: £17.77