Categories
Shop by supplier
Information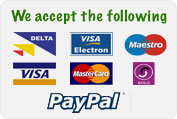 OvaView - Spare Viewing Cones Pack
OvaView - Spare Viewing Cones Pack
A pack of two spare viewing cones for the OvaView Egg Candler - one standard cone and one high intensity cone.

These flexible black rings seal against the egg allowing more light to penetrate the shell resulting in better visibility.
Read More...
No other images available
Other products you might like
Ova Scope Attachment for Ova View Egg Candler.
Price: €20.33

Brinsea OvaView Standard Egg Candling Lamp
Price: €28.46

Brinsea OvaView High Intensity Candling Lamp
Price: €40.00

Battery Charger & Batteries for OvaView Candling Lamp
Price: €25.00
OvaView Candler and OvaScope Egg Candling Pack.
Price: €40.41