Categories
Shop by supplier
Information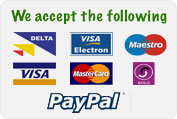 50m x 0.75m Super Rabbit Netting.
50m x 0.75m Super Rabbit Netting.
This rabbit proof electric netting is easy to setup and provides you with a quick, easy and effective stretch of electric rabbit proof fencing; it can also be used to help guard against badgers.
When deterring rabbits the net is best erected at a 45-degree angle facing the hedgerow.
Therefore the ears of the rabbit will touch the net before it can get close enough to burrow underneath.
If badgers are the main target, then make the electric fence more upright.
Hotline Rabbit netting is recommended for use around farms, vegetable plots, parks, gardens, golf courses and anywhere else that rabbits are a problem.
The Hotline rabbit net is supplied with posts already attached, but in undulating ground or particularly exposed areas, it may be worth having some spare netting posts to provide additional support and help keep the net taut over the uneven/rough ground.
Read More...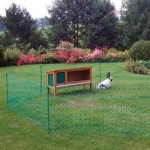 Other products you might like

Hotline Gemini 120 Electric Fencing Unit.
Price: €150.00
Rabbit Cage Trap
Price: €55.00
Rabbit Tube Trap.
Price: €25.00