Categories
Shop by supplier
Information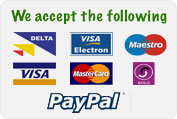 Sevylor 2 Man Tender
Sevylor 2 Man Tender
Light but sturdy, our Sevylor Tender TMT260 is the perfect boat for Tender excursions or just for the pleasure of motoring.
Ideal tender for getting out to moorings or towing behind main boat.

Protected transom board and stiffening bars.
Wooden bench. Wooden floor slats for rigidity and stability.
2 chambers for safety.
Lightweight at only 23.5kg.
Quick draining plug.
Outer Nylon Hull and coated fabric underside for stiffness.
Gear bag.
Convenient handle.
Also included: Bag + Mano.
Supplied with a repair kit and owners manual.
Size inflated (cm) : 260 x 140 cm. Weight (kg) : 23,5 kg.
Max. capacity adults : 2
Number of inflatable chambers : 2.
Maximum load capacity (kg) : 340 kg.
Standard : ISO 6185-1.
Classification : II.
Packaging size (cm) : 117 x 56 x 23 cm.
Max. motor capacity (cv / hp) : 2,5.
Read More...
No other images available
Other products you might like
Highlander KINGFISHER 6.5 CM Knife
Price: €9.66
Highlander Leopard Sheath Knife
Price: €20.00
Coleman 12 Volt Quickpump
Price: €29.00
Coleman Rechargeable Quickpump.
Price: €48.00