Categories
Shop by supplier
Information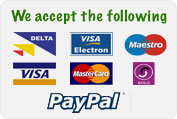 Infra Red Brooder. Reflect Cip
Infra Red Brooder. Reflect Cip
A Small Infra Red Poultry Brooder to cover 20 - 30 day old chicks.
For its operation it needs an infra red bulb lamp E27 MAX 100W 230V (not included).
A super small brooder lamp for poultry, game birds, pigs & puppies.
Made from easy to clean but strong plastic.
Slightly soiled from storage hence price.
Read More...
No other images available
Other products you might like

Chick Enclosure Panels.
Price: €17.71

1 Litre Chick Fount / Quail Drinker
Price: €4.33

1 Kg Chick Tube Feeder
Price: €3.50
30 Cm Plastic Chick Feeding Trough
Price: €2.95
Infra Red Lamp / Bulb. 60 Watt
Price: €6.39