Categories
Shop by supplier
Information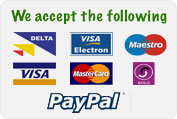 Terms & Conditions
TERMS AND CONDITIONS:

PAYMENT

All prices on this website are quoted are in Euro € and are inclusive of VAT unless otherwise specified. Books at this time do not have VAT nor do some health products. Fuel has a vat rate of 13.5% currently and most other goods are at 23%.

All prices are exclusive of delivery unless otherwise stated. We accept most major credit and debit cards. Payments can also be made by posting a cheque / postal order or bankers draft to our main office address at Ballyhea, Dingle, Co. Kerry, Ireland. When paying by cheque / postal order or bankers draft we require payment prior to despatch. Cheques must clear before goods are despatched. Cash is only accepted if collecting goods in person. Do not send cash by post. A Cash on Delivery service is no longer available unless goods are delivered by our own transport.

DELIVERY

All deliveries are done by courier (Fastway unless its pallet deliveries which are by a pallet network). We despatch orders daily and in general goods ordered online before 11.00 am are dispatched same day for delivery usually the following day ( No Guarantees ) within 32 counties. Phone orders may take a couple of days longer to process. Couriers require a signature for goods so please ensure that you give us a daytime telephone number where you can be contacted prior to delivery. If possible give mobile & landline phone numbers, email address & your Eircode / Postcode. No Eircode / Postcode or daytime contact number will delay deliveries. Try and order well in advance of your needs. Goods shown with as out of stock or with due dates will be shipped as soon as they arrive. If its part of a larger order please advise if you want the in stock items sent first.

Offshore deliveries & can incur extra charges. Please contact us before ordering.
No deliveries to the UK at present. Northern Ireland deliveries as normal.

CLAIMS

When you receive goods from MacEoin General Merchants Ltd you must inspect the goods with the driver present and note any damages on the delivery note. You must then contact us within 24 hours by telephone to report the damages. If you are unsure about anything make sure you write goods unchecked next to your signature.
If goods are badly damaged return them with the driver and sign goods damaged & returned next to your signature. Claims cannot be processed once goods are signed for in good condition. If the goods are accepted by you even if damaged then you must return them to us at your own expense.

GENERAL

All goods sold by MacEoin General Merchants Ltd shall remain the property of MacEoin General Merchants Ltd until fully paid for by the purchaser. We have the rights to uplift any goods which have not been paid for in full & seek compensation for any damage to these goods and any recovery costs incurred. Interest will be charged on all overdue accounts for balances over 30 days from invoice date at a rate of 3% per month.

DISCLAIMER

MacEoin General Merchants Ltd makes every effort to keep the prices up to date. Errors can occur, however, and where this happens, MacEoin General Merchants Ltd will re-confirm prices prior to debiting your card and shipping goods. No liability is held by MacEoin General Merchants Ltd for any injury to the customer or loss of livestock or eggs however caused by use of any goods sold. Customers should always arrange their own insurance cover.
INVOICING / RECEIPT

A VAT receipt will be sent with your order and will be on the outside of the box in a documents envelope. Please ensure that you order in the name you want the receipt in as invoices cannot be ammended after ordering. Copy invoices will be sent out on request though a small charge may apply for this.

PRODUCT RETURNS & REFUNDS

When you receive goods ordered from MacEoin General Merchants Ltd, you have a statutory right to cancel the order within seven working days starting from the day AFTER the goods were delivered. Please note seven working days does not include public holidays or weekends. We will refund the price paid as soon as possible by cheque or electronically ( Not Cash ), but no later than 30 days from written notification that you wish to cancel the order. This notification must be in writing, and will not be accepted in the form of a telephone call only. We will refund only the cost of the goods and not outward carriage charges. You must return the goods to MacEoin General Merchants Ltd by an appropriate courier and insure these goods for the return journey. Alternatively you may return the goods in person. If you do not freely return the goods, at your cost, to MacEoin General Merchants Ltd then we may have to deduct any reasonable costs we incur in recovering the goods from you. This will be deducted from your refund. If you, the consumer, wish to return goods, you will return them at your own cost. Where products supplied are damaged, incorrect or faulty we will either replace the item or issue a full refund within 30 days of notice. We will request goods to be returned for inspection prior to agreeing to any refund at your cost, replacement goods cannot be sent out prior to the faulty goods being returned. If goods are confirmed to be faulty, damaged or incorrectly supplied we will refund any carriage costs incurred in returning the goods. A 20% returns fee plus outward carriage costs will be applied to all orders returned to cover re packaging costs should original packaging be damaged in anyway.
No returns will be accepted once goods have been removed from origional packaging or used.

COMPLAINTS

Should you have a complaint about any product purchased from MacEoin General Merchants Ltd please contact us at info@maceoinltd.com or contact us by post, telephone, or in person. We will review and acknowledge your complaint by email or letter within five working days.
Your statutory rights are not affected by any of the terms and conditions listed here.

EXPORT ORDERS

Export orders include all orders except those delivered in Ireland ( North & South ). Please contact us on info@maceoinltd.com for export prices as they may not be applicable to VAT. We can arrange to package goods for export worldwide and provide all relevant documentation for customs etc. Customers are liable for all duties, port fees & customs clearance charges into their own countries and to arrange collection of goods. We only ship Ex works wand no longer arrange export shipping. Goods supplied for export are not covered under normal warranties and discounts are generally provided to compensate for this.

Warranty on Goods.

All goods supplied by us have a warranty. The length of warranty varies from product to product. All electrical items come with a minimum 12 month warranty on parts. Borotto, River Systems & Novital Incubators come with a 12 month warranty as do all electrical spare parts. Brinsea Incubators come with a standard 12 month warranty but if you register goods with Brinsea online when you buy the goods you get an extra 2 year warranty.
Goods under warranty must be returned to us at the customers expense for us to examine within the warranty period with a copy of origional receipt or proof of purchase. Goods providing they are faulty and not damaged or misused will be repaired and returned to customer within a reasonable time frame. Repair or replacement will be at the manufacturers discretion.

Goods must not be returned without contacting the office and getting a returns number. No goods will be accepted without prior notification. Ensure all goods being returned are packaged well and insured so you are covered for any damage in in transit. You are responsible for the goods until they arrive here. Please include your full name, address, phone number and brief note as to what the issue is both inside the box and on the outside packaging.
We have the facilities at our warehouse in Dingle, Co. Kerry to box, palletise or containerise your orders for delivery. We can also offer pallet and container storage at our premises in Dingle, Co. Kerry at reasonable rates.