Categories
Shop by supplier
Information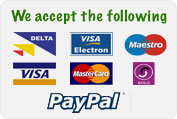 The Big Cheese - 400g Natural Mouse & Rat Bait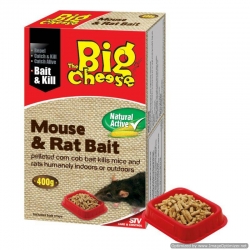 The Big Cheese - 400g Natural Mouse & Rat Bait
Pelleted Corn Cob Bait Kills Mice & Rats Humanely Indoors & Outdoors.
Use The Big Cheese Mouse & Rat Bait for effective control of rats and mice both indoors and outdoors.
This product is formulated from refined natural plant material which disrupts the digestive system of rodents.
Prior to treatment all known sources of food should be removed from the infested area.
Each filled bait tray will contain approx. 50g of bait.
Fill both bait trays provided with bait and place the bait trays 2 meters apart in the area to be treated.
Ideal locations for the trays are where rodent droppings are seen and near entry points.
Protect the bait from children, non target animals, pets and birds at all times.
Avoid placing the bait in damp or wet locations. Once the trays are placed in the desired location, inspect regularly and replace any eaten bait.
Any bait that has become wet should also be replaced and bait trays re-sited.
Continue to top up bait trays until no further signs of feeding are noticed for at least 48 hours.
For outdoor use it is recommended to wrap the 50g of bait in cling film prior to placing in the tray.
Use of a tamper resistant bait ststion is also recommended for outdoor use.
back to Vermin Traps and Control
Read More...
No other images available
Other products you might like
Mouse Cage Trap.
Price: €3.50
King Feeder & Hat. 25kg Capacity.
Price: €31.00
Treadle Feeder for Poultry. 12kg Capacity.
Price: €45.00

Mark 4 Springer / Fenn Trap
Price: €10.70

Rat & Mouse Bait Station. Lockable.
Price: €10.00

3 Rat Bait Stations & 200g Bait.
Price: €35.00