Categories
Shop by supplier
Information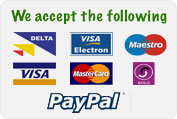 Electronic Rat Killer.
Electronic Rat Killer.
Ultra Power Neo Zap Electronic Rat Killer from the Big Cheese features patent pending technology that delivers fast and humane control of target pests - just like the professionals use.
Each unit includes a starter-pack of high palatability Neo-Zap Rodent Lure.
Set-up and operation of the battery powered unit is simple.
A single battery set generates up to 50 lethal electrical charges and the unit is guaranteed to kill rats.
Kills rats in seconds
Delivers up to 50 kills per battery set (4 x AA batteries, not included)
Starter-pack of 6 Poison-Free baits included
Micro-switch protection for safe handling and re-baiting.
Rat Traps Ireland
Read More...
No other images available
Other products you might like

Mark 4 Springer / Fenn Trap.
Price: €11.75
Heavy Monarch Dome Multi Catch Rat Trap.
Price: €34.00

Family Rat Cage Trap
Price: €25.00

3 Rat Bait Stations & 150g Bait.
Price: €35.00

Goodnature A24 Smart Rat Trap Kit. Stock Due 16th December
Price: €210.00

10 Pack of Black Cat Rat Traps
Price: €110.00