Categories
Shop by supplier
Information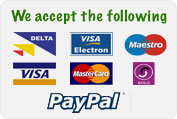 Mouse Master Live Catch Multicatch Mouse Trap
Mouse Master Live Catch Multicatch Mouse Trap
A live catch trap suitable for catching up to 10 mice at a time.
This trap is self setting, just bait with chocolate and its ready to use.
Better than poison & easier to use.
Can be used in houses, attics, poultry shed, piggeries or anywhere you have a mouse problem.
None target animals can be released unharmed.
back to Vermin Traps and Control
Read More...
No other images available
Other products you might like
Mouse Cage Trap.
Price: €3.60

Mark 4 Springer / Fenn Trap
Price: €10.50
Mouse Master Live Catch Multicatch Mouse Trap
Price: €12.78
Heavy Monarch Dome Multi Catch Rat Trap.
Price: €25.58

3 Rat Bait Stations & 150g Bait.
Price: €35.00

Mole Trap - Claw Type
Price: €6.89