Categories
Shop by supplier
Information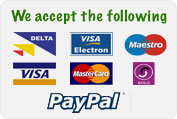 Live Catch Cat Cage Trap.
Live Catch Cat Cage Trap.
Size 82cm x 26.5cm x 34cm

Cage for Controlling Feral Cats or in Neuter & Release Programs.
Bait with cat food to catch feral cats.
Comes with carry handle and rear door for releasing the cat unharmed.
Non target species are released unharmed.
Used by Vets & Animal Rescue workers for catching wild cats.
Imported by Mac Eoin Ltd for many years.
Folding Design.
back to Vermin Control And Traps
Cat Trap
Cat Cage
Read More...
No other images available
Other products you might like

Mark 4 Springer / Fenn Trap
Price: €10.70

Mark 6 Springer Trap / Fenn Trap
Price: €13.20
Fox Cage Trap. Heavy Duty. Out of stock until Mid November
Price: €195.00

Heavy Duty Mink - Cat Cage Trap.
Price: €60.00
Ultrasonic Bird Scarer.
Price: €58.00