Categories
Shop by supplier
Information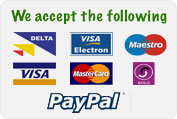 Ultrasonic Bird Scarer.
Ultrasonic Bird Scarer.
PestClear Ultrasonic Bird Repeller is an advanced ultrasonic pest repeller to assist in the control of birds, including pigeons, starlings, sparrows, crows, seagulls and magpies.
It is also effective against rodents, including rats, mice, squirrels, and rabbits.
With no less than EIGHT powerful speakers, (other products have just one speaker), it is designed to cover an area the size of a typical domestic garden with carefully targeted sounds (NOT audible to humans), to help repel the unwanted birds or rodents.
The Ultrasonic Noise is emitted on an adjustable timer setting.
The product is supplied with a wall and ground mounting kit, an indoor-rated AC-DC adapter, and a 10 metre extension cable.
It can also use the optional PRSOLAR solar power kit ( Not Supplied), which means it can be used even in areas with no power supply. Click Here To Buy.
There is a choice of two frequencies. The high frequency repels small birds and mice, and the lower frequency is effective against larger birds, rats, squirrels, and rabbits.
Maximum coverage is approximately 200ft.
Allow at least 2 - 3 weeks for new behaviour patterns to become established.
There is no guarantee these will eradicate nuisance birds fully but used with decoys etc may help detering them. If there is Feed or Trees around birds can be difficult to deter.

Unlike cheaper battery operated repellers, the PestClear Ultrasonic Bird Repeller is suitable for both domestic and professional applications, and it is widely used in public spaces, schools, hospitals and hotels, as well as homes and farms.
Read More...
No other images available
Other products you might like

Bird Scarer. Wind Powered.
Price: €14.00
Sonic Electronic Bird Scarer.
Price: €65.00

Live Catch Cat Cage Trap.
Price: €55.00
Solar Power Kit for Bird Scarers.
Price: €30.00

Hunting Barn Owl Decoy.
Price: €20.00