Categories
Shop by supplier
Information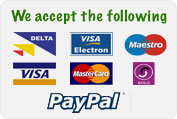 River Systems ET 12 Semi Automatic Incubator.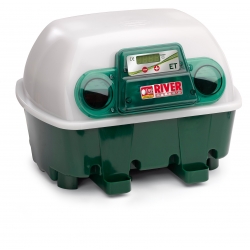 River Systems ET 12 Semi Automatic Incubator.
The River Systems EggTech ET 12 Incubator is designed to be easy and straight-forward to use while at the same time offering innovative technology and high reliability.
This 12 Egg Incubator is Semi Automatic Turning so you move a small lever to turn the eggs. ( An automatic turner can be bought at anytime to convert it to Automatic.)
Viewing windows allow you to see the eggs & chicks inside.
Temperature is controlled by an accurate digital display.
Capacity is 12 Eggs from Pheasant to Goose Size or 48 Quail Eggs.

Features Digital Temperature display – It is possible to set the temperature from 30°C to 40°C with 0,1°C steps.
Different Egg Sizes can be hatched, up to and including goose eggs.
Turning lever is outside meaning there is no need to open the incubator.
The eggs are housed in the swinging egg tray whose tilting is regulated by the lever outside the incubator.
Inspection windows to allow you to follow all the stages of incubation.
Hatching Tray where to eggs can be placed for the last three days before hatching is included.
Information Manual on Incubating Eggs is included.
Technical characteristics: – Capacity: 12 hen-eggs or similar / 48 quail-eggs –
Voltage: single phase, 230 V CE – Plug: Factory Fitted UK / Irish plug –
Average daily consumption: max. 0,5 kW/24 hours.
Super-efficient costing less than 15c a day to run. –
Maximum power: 45W
MacEoin General Merchants Ltd are the Irish Distributor for River Systems EggTech Incubators.
A very popular incubator for Queen Cells.
Incubator for Bees
Antrim, Armagh, Carlow, Cavan, Clare, Cork, Derry, Donegal, Down, Dublin, Fermanagh, Galway, Kerry, Kildare, Kilkenny, Laois, Leitrim, Limerick, Longford, Louth, Mayo, Meath, Monaghan, Offaly, Roscommon, Sligo, Tipperary, Tyrone, Waterford, Westmeath, Wexford, Wicklo.
Incubators Ireland
Read More...
Other products you might like
OvaView Candler and OvaScope Egg Candling Pack.
Price: €44.00

Egg Candler. Super Flash Standard.
Price: €20.00

Large Dial Incubator Hygrometer 70mm.
Price: €20.00

Egg Sanding Block / Egg Cleaner.
Price: €2.60
Egg Turner for River Systems Covina & ET Incubators.
Price: €65.00