Categories
Shop by supplier
Information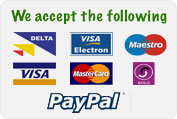 Brinsea Egg Dip & Incubator Detergent / Discinfectant 100ml. No Stock until 18th June
Brinsea Egg Dip & Incubator Detergent / Discinfectant 100ml. No Stock until 18th June
Biodegradeable incubator & egg disinfectant is formulated to be used for sanitizing eggs, incubators and brooders.

Brinsea's Incubation disinfectant / egg dip is both safe and effective against yeasts, fungi, viruses and bacteria which can cause fatal damage to the growing embryo.

100ml of disinfectant concentrate makes 10 litres of solution for cleaning eggs & incubators.

Keep your incubator clean & fresh. Also use in incubator water trays.
back to Incubators
Brinsea Incubators Ireland. Dingle. Co. Kerry.
Read More...
No other images available
Other products you might like

Thermometer For Brinsea Incubators in Centigrade.
Price: €13.00

Precision Digital Balance
Price: €30.84

Spot Check / Check Up Digital Incubator Thermometer
Price: €24.00
TLC-4, TLC-4M and Vetario S10 Filter Set
Price: €9.07