Categories
Shop by supplier
Information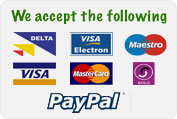 3 Kg Plastic Tube Feeder.
3 Kg Plastic Tube Feeder.
A click lock type plastic tube feeder to hold approx 3 kg poultry feed.
Can be used standing or hanging indoors.
very good quality plastic poultry feeder.
Easy to clean & easy to fill up.
Suitable for grain, chicken mash & poultry pellets.
Suitable for all poultry. ( chickens, ducks, pheasants. )
Back to Poultry feeders
Read More...
No other images available
Other products you might like

Bird Scarer. Wind Powered.
Price: €14.00
Brinsea Mini ADVANCE 2 Incubator.
Price: €180.00

Poultry & Gamebird Carrying Crate. 2 Door.
Price: €45.00
Electric Poultry Fencing / Netting. 25m x 1.1m High Hotline.
Price: €110.00

3 Litre Click Lock Chick Fount / Poultry Drinker.
Price: €5.50

Mink Cage Trap. Double Entry
Price: €40.00