Categories
Shop by supplier
Information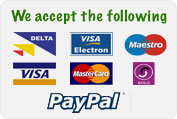 50 Cm Plastic Chick Feeding Trough
50 Cm Plastic Chick Feeding Trough
A plastic chick trough feeder 50 Cm long.
Suitable for dry feed, pellets & mash.
A very popular chick starter feeder.
Not suitable for adult poultry.
Imported into Ireland by Mac Eoin General Merchants Ltd. Dingle. Kerry.

Back to Poultry feeders
Read More...
No other images available
Other products you might like

Cage Feeder / Drinker
Price: €1.50
Aluminium Feed Scoop. 300ml - 300g.
Price: €5.00

Aluminium Infra Red Brooder Lamp with 150w Bulb.
Price: €25.00