Categories
Shop by supplier
Information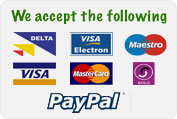 6" Quality Boning Knife.
6" Quality Boning Knife.
This boning knife has a straight blade is ideal for many meat deboning applications & for bleeding poultry.
High-alloy steel, which ensures long edge life and therefore reduces replacement costs.
The hygienic handle is made from high quality, non-slip durable plastic.
Proven brand that are used within the meat and food processing sector.
Their high-quality materials ensure long life and excellent performance, while their handles are designed to offer users a safe and comfortable grip.
You must be over 18 to buy this product.
By purchasing you are confirming that you are of legal age and buying for legitimate reasons.
Read More...
No other images available
Other products you might like

Wall Mounted Poultry Dispatcher.
Price: €55.00

Turkey / Geese Killing Cone. Wall Mounted.
Price: €80.00
Wet Plucking Machine. Novital Esterina.
Price: €450.00

Humane Bird Dispatcher Pliers.
Price: €45.00

Highlander Jaguar Bush Craft Knife
Price: €35.58

Highlander Eagle Camo Knife
Price: €17.50