Categories
Shop by supplier
Information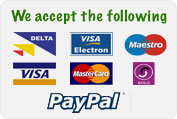 6" Quality Boning Knife

6" Quality Boning Knife
Polypropelyne Handle.
Stainless Steel Blade.
A Quality Butchers Boning Knife with 6" Blade perfect for bleeding & boning poultry.
Made in Sheffield, U.K.
We stock the best range of poultry processing equipment & parts in Ireland.
Read More...
No other images available
Other products you might like

Wall Mounted Poultry Dispatcher
Price: €47.50
Wet Plucking Machine. Novital Esterina.
Price: €410.00

Hand Poultry Dispatcher Pliers
Price: €40.00

Bolt Stunner - Punch Stunner For Poultry upto 25Kg.
Price: €180.00

Poultry Bleeding Tool for Game & Chickens.
Price: €45.00
Humane Chicken & Game Bird Dispatcher.
Price: €45.00