Categories
Shop by supplier
Information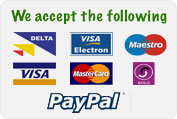 30 Metres of Repeller Ribbon.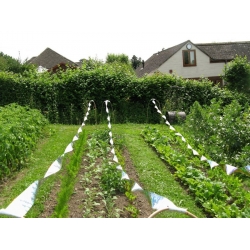 30 Metres of Repeller Ribbon.
Repeller ribbon is a safe, non-toxic method of preventing damage by nuisance birds and animals.
Repeller Ribbon's holographic surface flashes and reflects light to drive away birds.
A light breeze will also provide movement and a metallic rattle which encourages nuisance animals to keep their distance.
Iridescent tape flashes and relects light to repel birds, deer and other nuisance animals, Protects fruit and vegetable gardens, seedings and newly seeded lawns.
Welfare-friendly deterrent that is safe for wildlife and pets.
Tough, weatherproof and long-lasting 100 micron tape.
Read More...
Other products you might like
Bird Scarer. Wind Powered. 5 Pack.
Price: €55.00

Flying Falcon Decoy
Price: €22.00

Bird Spikes - Anti Roosting Spikes.
Price: €4.00

Hunting Barn Owl Decoy.
Price: €20.00

Eyeball Bird Scarer.
Price: €10.00

Fox & Wildlife Repellent.
Price: €9.50