Categories
Shop by supplier
Information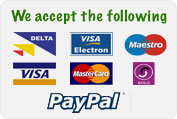 Chicken Beak Bits. Pack of 10
Chicken Beak Bits. Pack of 10
A Pack of 10 Beak Bits for Adult Chickens & Hens.
When fitted properly to adult chickens these will stay in for months.

Help prevent feather pecking & egg eating in adult chickens.
Size C Maxi Beak bits do not interfere with eating & drinking.
Also suitable for pheasants over 6 weeks of age.
Read More...
No other images available
Other products you might like
Pheasant Spex. 25 Pack.
Price: €6.00
Stockholm Tar. 400g
Price: €12.00
Size C Bitfitter Beak Bits. 1000
Price: €30.00

Bitfitter Tool Size C
Price: €38.00
The Wise Poultry Feeder. 10kg Mountable.
Price: €47.00

Rollaway Nestomatic Nestbox. Galvanised.
Price: €37.50