Categories
Shop by supplier
Information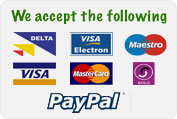 Coleman 100 Quart Xtreme Cooler
Coleman 100 Quart Xtreme Cooler
Perfect for a family at the campsite, these sturdy coolers are in it for the long haul -thanks to their thick walls and high performance PU insulation they keep ice cold for up to 5 days, even in temperatures of 32ºC.

Capacity 94 L

Hinged lid with deep beverage holders

Lid takes elastic cords for additional dry storage

Rustproof, leak-resistant channel drain for no-tilt draining

Two-way handles for easier lifting and storing

Cooling performance 5 days

Dimensions 92.1 x 41.3 x 43.8 cm

Holds 130 cans
Read More...
No other images available
Other products you might like
Wet Plucking Machine. Novital Esterina.
Price: £355.36
Lineaffe Cayman 30 Multiplier
Price: £61.18
25 Litre Jerrycan With Tap
Price: £19.23

Ice Pack - Campingaz M30
Price: £5.24

Campingaz Cp250 Gas 12 Pack.
Price: £22.21

2 Man Pop Up Tent. Pink
Price: £34.96