Categories
Shop by supplier
Information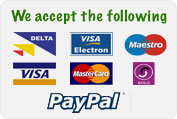 Brinsea Evaporating Blocks for Ovation 28 EX
Brinsea Evaporating Blocks for Ovation 28 EX
Evaporating Blocks for Brinsea Ovation 28 EX Incubators - pack of 3.
It is recommended that the evaporation blocks should be replaced every other hatch.
Genuine Brinsea Incubator Parts.
Brinsea part Number AG006
Read More...
No other images available
Other products you might like
Brinsea Ovation 28 EX. Digital Egg Incubator.
Price: €415.00
Ovation 28 Incubator Hatching Mats - Pack of 6
Price: €20.00
Ovation 28 Zoologica Incubator.
Price: €735.00
Replacement Fan for Brinsea ovation 28 & 56 Incubators.
Price: €34.00