Categories
Shop by supplier
Information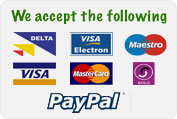 Fox Call - Hardwood - Large - Rabbit Squeaker
Fox Call - Hardwood - Large - Rabbit Squeaker
Made in traditional British wood such as Oak and Elm.
Excellent at mimicking the distressed sounds that will attract a predator.
With a little practice this fox call will both project the sound over a great distance, but can then be muffled to bring the predator in close.
High volume rabbit squeaker fox call for distance but with a sensitive reed giving easy control for quieter, muffled cries.
Very popular fox call.
7cm long.
Made from hardwood.
Made by Acme calls in The UK & Distributed by MacEoin General Merchants Ltd in Ireland.
Fox Callers Ireland
Read More...
No other images available
Other products you might like
7 Shotgun Full Size Gun Safe. ST7
Price: €320.00

Silent Dog Whistle
Price: €20.00
Predator Warbler Fox call
Price: €7.00
Fox Call - Plastic. Acme 505.
Price: €9.00

Mens Green Pomless Watch Hat
Price: €6.00

Neck Lanyard For Whistles, Calls & Compasses
Price: €4.00