Categories
Shop by supplier
Information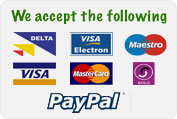 7" Titanium Bonded Wide Filleting Knife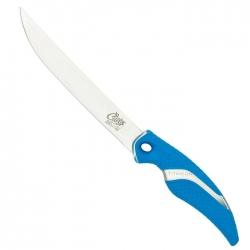 7" Titanium Bonded Wide Filleting Knife
A great choice for all purpose filleting.
This knife features a German 4116 stainless steel blade that is corrosion-resistant and has a full-tang construction for increased durability.
The wide blade has an oversized backbone so it is thick and strong.
The Cuda brand was designed with the strength, power and agility of the barracuda.
Featuring titanium bonded steels and alloys, Cuda tools provide world class hardness, corrosion and adhesive resistance.
The titanium bonding process guarantees the steel to be three-times harder than untreated steel.
Perfect for filleting game, fish & poultry.
You must be over 18 to purchase this item.
By purchasing ths item you are confirming you are over 18.
Read More...
No other images available
Other products you might like

6" Quality Boning Knife
Price: €25.00
Chicken / Duck Killing Cone. Wall Mounted.
Price: €62.00

Bolt Stunner - Punch Stunner For Poultry upto 16Kg.
Price: €120.00

Bolt Stunner - Punch Stunner For Poultry upto 25Kg.
Price: €180.00

Opinel Lock Knife No 7
Price: €9.66

Opinel Lock Knife No 8
Price: €10.67