K7 Moving Air Incubator / Hatcher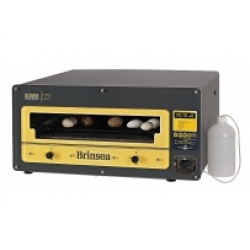 K7 Moving Air Incubator / Hatcher
Allow 4 - 6 weeks delivery after ordering. These are made to order.

K7 Moving Air Incubator/Hatcher. Leading raptor breeders have used Brinsea's contact incubators like the X8 and Z6 for the initial 10 days of incubation with excellent results before moving eggs to conventional forced air incubators. The new Z7 Raptor and K7 combination provide optimum conditions for the full incubation period with improved control and reliability.
'Brinsea's Contact Incubators have been my choice for breeding falcons for many years and the Z7 represents a significant step forward in this technology'. Martyn Paterson, Senior Aviculturist and Falcon breeder.
Brinsea's no compromise moving air incubator/hatcher. For use in conjunction with the Contaq Z7 contact incubator or for any demanding incubation application.
Precise control of temperature and humidity with the latest version of Brinsea's digital incubation control software featuring predictive temperature stability system incorporating active temperature overshoot elimination.
Robust programmable rack and pinion turning with optical turn counter (and independent alarm) for complete confidence that eggs have turned overnight.
Complete with a comprehensive set of rollers to suit all egg types.
Supplied with a high accuracy calibrating thermometer to verify control system accuracy.
Fully stainless-steel construction for longevity and ease of cleaning.
Stackable, front-loading space efficient design
3 year guarantee
Control System The K7 provides extremely tight control of temperature and humidity of the moving-air egg chamber using the latest version of Brinsea's proven incubation software.
The floor is driven by a precision rack and pinion with integral turn counter which detects and displays the number of floor movements so you always know your eggs have been turned, even when you are not present.
The 4 button menu driven interface and high visibility OLED display allows control of: Temperature – displayed in °C or °F. Humidity – displayed in %RH and with automatic control.
Cooling – optional timed egg cooling to mimic the bird temporarily leaving the nest, which has been shown to improve hatch rates.
Turning – the interval and duration of egg turning.
Temperature Alarm – warns the user if the incubator or room temperature falls outside user-settable limits.
Dimensions External dimensions: 33cm x 66cm x 59cm (13" x 26" x 231⁄4" ) – H x W x D Weight: Z7 – 39Kg
Input voltage: 115v AC or 230v AC as specified
Examples of typical maximum egg capacities:
Quail - 88 Partridge - 63
Pheasant - 48
Hen/Falcon/Saker - 42
Duck/Turkey - 20
Emu/Rhea - 8
Ostrich - 4
Read More...
Other products you might like
Spot Check Digital Thermometer Battery
Price: €3.00
OvaView Candler and OvaScope Egg Candling Pack.
Price: €44.00

High Intensity Superflash Egg Candler / Egg Tester
Price: €40.00

F10 Super Concentrate Disinfectant. 100ml
Price: €14.00