Categories
Shop by supplier
Information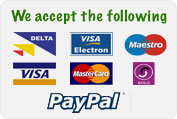 Octagon 10 / 20 DX Cradle Bars ( pair)
Octagon 10 / 20 DX Cradle Bars ( pair)
Octagon 10 / 20 DX Cradle Bars - per pair.

2 Bars to connect either end of the Brinsea Egg Turning Cradles on the Older Octagon Incubator Cradles.
Will not fit Octagon 20 Advance & Eco models of Brinsea Incubators.
Read More...
No other images available
Other products you might like

Octagon 10 Polyurethane Egg Tray / Door Moulding.
Price: €20.00

Octagon 20 Advance Cradle Bars (pair)
Price: €12.00

Octagon 10 / 20 - Non Motorised Cradle End
Price: €9.00
Octagon 10 / 20 / 40 Cradle Clutch
Price: €12.00