Categories
Shop by supplier
Information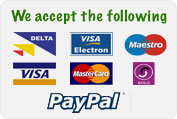 Polywire. 500 metres.
Polywire. 500 metres.
A 500m roll of Polywire Electric Fence Wire.
Contains 6 strands of stainless steel wire.
Polywire for stock control and strip grazing od sheep & cattle.
Electric Fencing Ireland.
Read More...
No other images available
Other products you might like
Hotline Shrike Energiser
Price: €110.00 €99.00

Hotline Gemini 120 Electric Fencing Unit.
Price: €150.00

Pack of 25 Screw - In Insulators.
Price: €12.00

Drill Attachment for Insulators
Price: €10.00
Insulated Gate Handle Set.
Price: €10.16

Lead Out Cable. 50 Metre
Price: €42.00