Humane Chicken & Game Bird Dispatcher.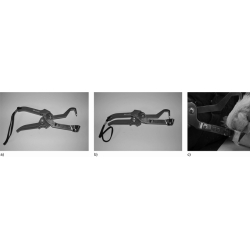 Humane Chicken & Game Bird Dispatcher.
The 'Armadillo' dispatcher is a scissor-type device that has a cup that holds the bird's head and a spike which, when the tool is positioned correctly and the jaws closed, penetrates between the first neck vertebra and the base of the skull, killing the bird by damaging the brain stem.
It was designed by John Dalton, a veterinarian and game bird shoot enthusiast.
Confirmation of damage to the brain stem by the device has been undertaken by macroscopic examination shortly after death in game birds.
Suitable for Partridge, Pheasant, Mallard and Chickens.
Read More...
No other images available
Other products you might like

6" Quality Boning Knife
Price: €20.00
Chicken / Duck Killing Cone. Wall Mounted
Price: €55.00

Hand Poultry Dispatcher Pliers
Price: €40.00

Bolt Stunner - Punch Stunner For Poultry upto 16Kg.
Price: €120.00

Poultry Lung Remover.
Price: €24.00