Categories
Shop by supplier
Information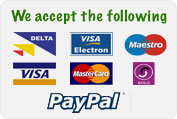 Heavy Duty Rat Cage Trap
Heavy Duty Rat Cage Trap
A heavy duty single entry, single catch rat cage trap.
Door locks closed when the rat stands on the treadle plate.

A carrying handle on the top of the trap with plate to protect your fingers.
Very popular with councils and pest control companies.
The best bait for rats is bacon rind, fish skin or STV bait.

Dimensions: 425mm x 168mm x 168mm

Weight: 1.3 kg
Back to pest control products
Read More...
No other images available
Other products you might like

Top Netting 1.5" Square Mesh. 64' x 64'
Price: €265.61

Rat Master Heavy Duty Multicatch Rat Trap
Price: €55.09

Mouse & Rat Trap Bait Attractant.
Price: €5.90