Categories
Shop by supplier
Information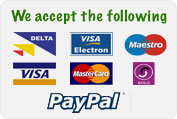 Sunflower. 1/2 acre pack. 2.5kg.
Sunflower. 1/2 acre pack. 2.5kg.
Variable height, but generally tall upto 5 feet high.
For best utilisation of this Subnflower crop it should be "swiped down" to enable game birds to reach the seeds.
Sowing rate: 5kg / Acre. Pack size: 2.5kg.
Sow in May / June to provide plenty of feed in Autmn.
Sunflowers should be in every shoot gameplan - they cheer people up, all birds love to eat them and the seed is highly nutritious!
Read More...
No other images available
Other products you might like
Bird Scarer. Wind Powered. 5 Pack.
Price: €55.00
King Feeder & Hat. 25kg Capacity.
Price: €35.00

Top Netting 1.5 Inch Square Mesh. 14' x 14'.
Price: €25.00

Top Netting 1.5 Inch Square Mesh. 11' x 22'
Price: €34.00

Top Netting 1.5 Inch square mesh. 42' x 42'
Price: €138.00