Categories
Shop by supplier
Information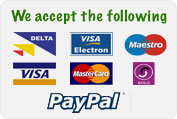 TLC-4, TLC-4M and Vetario S10 Filter Set
TLC-4, TLC-4M and Vetario S10 Filter Set
Pack of one large internal ceiling filter and one small external air inlet filter for the Brinsea TLC-4, TLC-4M and Vetario S10 Intensive care Units.

The twin electrostatic filtration system removes airborne dust, bacteria and fungi and for improved performance the filters should be disinfected / replaced after each brood / patient.
Genuine Brinsea Brooder replacement parts.
Read More...
No other images available
Other products you might like