Categories
Shop by supplier
Information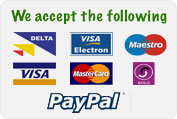 Bird Scarer. Wind Powered. 5 Pack.
Bird Scarer. Wind Powered. 5 Pack.
A Great Bird Scarer that is wind powered & easily put on a shed or post.
This Rotating wind powered bird scarer uses flashes of reflected sunlight and predator 'eyes' to deter wild birds without disturbing neighbours or domestic birds.
With all-metal construction and long-life ball bearing the bird scarer is build to last.
Supplied with a metal spindle which can either be pushed directly into the soil for lower crops in the garden or strapped to a garden cane or high post with the tie wraps supplied for raising to a higher profile.
Ideal for use in allotments and kitchen gardens and most effective when 3 or 4 are used around a plot and their position is changed periodically.
Ideally suited on free range poultry farms, game farms, release pens or where birds are taking eggs & chicks.
Also suited on sheep farms at lambing time to deter magpies & crows.
Read More...
Other products you might like

Bird Scarer. Wind Powered.
Price: €14.00

Sunflower. 1/2 acre pack. 2.5kg.
Price: €50.00

Bird Spikes - Anti Roosting Spikes.
Price: €4.00

Bird Puller. 5kg.
Price: €55.00
Fine Flowers Meadow Seed Mixture. 400g.
Price: €55.00