Categories
Shop by supplier
Information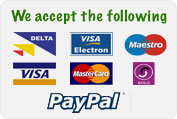 Defenders Mega-Sonic Fox Repeller.
Defenders Mega-Sonic Fox Repeller.
Deter foxes from your smallholding, garden or poultry pens with defenders mega-sonic repeller.
Boasting two deterrent actions, audio and visual.
With a flashing red LED eyes and ultrasonic sound repellent, this is a welfare-friendly deterrent to rid your outdoor space of foxes and other mammalian rodents.
With its day and night motion sensor, this repellent has a 100m2 detection coverage making it suitable for a range of garden sizes.
All weather tested, this durable deterrent is longlasting through all seasons and has a battery or mains-powered option making it adaptable to suit your needs.
Specifications Welfare-friendly Audio-visual deterrent.
2 x 9v batteries required (available separately)
Mains power pack included 10m range.
Read More...
Other products you might like

Electric Poultry Fencing / Netting. 50m x 1.1m High. Hotline.
Price: €150.00 €135.00

Mark 6 Springer Trap / Fenn Trap
Price: €13.20
Fox Snares Heavy Duty (10 Pack).
Price: €35.50
Fox Cage Trap. Heavy Duty.
Price: €195.00

Hotline Deluxe 50m Poultry Netting Kit With Hot Gate.
Price: €325.00 €285.00