Categories
Shop by supplier
Information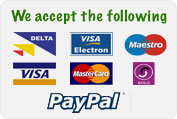 Goodnature CO2 Cartridge for A24 trap
Goodnature CO2 Cartridge for A24 trap
Containing 16-grams of solid CO2, the Goodnature replacement CO2 canister provides the power for your traps.
They will provide 24 strikes in even the coldest of Irish climates.
Goodnature trap gas cartridges.
Read More...
No other images available
Other products you might like

Mark 4 Springer / Fenn Trap.
Price: €11.75

Single Catch Rat Cage Trap.
Price: €12.00
Heavy Duty Rat Trap & Tunnel.
Price: €13.00

STV All Weather Block Bait. Pack of 30.
Price: €14.00

Goodnature A24 Rat Trap & Counter Kit
Price: €199.00
Goodnature A24 Chocolate Lure Replacement Basket.
Price: €14.00