Categories
Shop by supplier
Information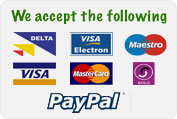 Single Catch Rat Cage Trap.
Single Catch Rat Cage Trap.
A Budget Single Catch Live Catch Rat Cage Trap.
Suitable for Indoor or Outdoor use.
Single entry door.
Can be tied to rafters with a cable tie for issues in roof spaces.
Bait with fish skin, bacon rind or mouse & rat attractant.
back to Vermin Traps and Control
Read More...
No other images available
Other products you might like

Mark 4 Springer / Fenn Trap
Price: €10.70

3 Rat Bait Stations & 200g Bait.
Price: €35.00
Fox Cage Trap. Heavy Duty. Out of stock until Mid November
Price: €195.00

Block Bait Mouse Killer Station.Twin Pack.
Price: €5.50

Mouse & Rat Trap Bait Attractant.
Price: €6.00
Rat Killer. Loose Grain Bait. 200g.
Price: €7.50