Categories
Shop by supplier
Information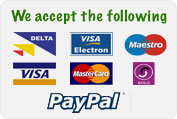 Heavy Duty Rat Cage Trap
Heavy Duty Rat Cage Trap
Ready-to-use & fully assembled heavy duty rat cage trap.
Long-lasting galvanised mesh & easy to set design
Solid top and carrier handle for easy handling
36 x 14 x 16cm size.
A very good quality single catch rat cage trap.
Bait this trap with our Mouse & Rat Trap Bait Attractant.
Back to Vermin Control & Traps
Read More...
No other images available
Other products you might like

Top Netting 1.5 Inch Square Mesh. 64' x 64'
Price: £239.87

Mark 4 Springer / Fenn Trap
Price: £9.77

3 Rat Bait Stations & 150g Bait.
Price: £31.61

Rat Master Heavy Duty Multicatch Rat Trap
Price: £53.30

Black Cat Rat Trap.
Price: £10.66
The Big Cheese XL Outdoor Bait Station
Price: £16.88