Categories
Shop by supplier
Information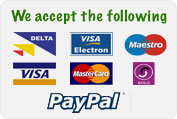 Wind Action Owl Decoy.
Wind Action Owl Decoy.
A Wind action owl decoy from the STV / Defenders range of decoys.
An appealing protection option for your vulnerable garden areas or crops
Watches over and deters pests naturally.
Nice garden ornament.
An Owl Decoy that moves in the wind.
Read More...
No other images available
Other products you might like

Bird Scarer. Wind Powered.
Price: €14.00
Sonic Electronic Bird Scarer.
Price: €65.00
Verm-X Poultry Pellets 1.5 kg Tub
Price: €44.00

Flying Falcon Decoy
Price: €22.00

Hunting Barn Owl Decoy.
Price: €20.00