Categories
Shop by supplier
Information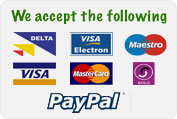 10kg Galvanised Tube Feeder.
10kg Galvanised Tube Feeder.
A 10kg Galvanised Indoor tube feeder for all fowl.
Adjustble in height.
This tube feeder for poultry can be used hanging or standing.
Outdoor raincover available as an extra to make into outdoor feeder for chickens, pheasants, turkeys etc
Read More...
No other images available
Other products you might like

Rollaway Nestomatic Nestbox. Galvanised.
Price: €35.00

20 Litre Tripod Chicken Feeder. No Stock until 19th May
Price: €34.00
Rainhat for 10kg Galvanised Feeder.
Price: €10.00

Galvanised Poultry Drinker. 13 Litre Capacity.
Price: €35.00

Agrivite Poultry Pep - 500g
Price: €7.00