Categories
Shop by supplier
Information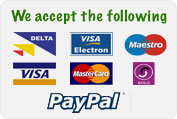 12 volt Power Adaptor for Brinsea Mini Advance, Eco & TLC 30
12 volt Power Adaptor for Brinsea Mini Advance, Eco & TLC 30
Power Adaptor Lead for Brinsea Mini Eco and Mini Advance Small Incubators to use in a vehicle.
12 Volt car accessory socket adaptor for the Brinsea Mini Eco and the Mini Advance Incubator.
Also used for the new Brinsa TLC30 Brooder Range.
This power adaptor has a long cable and comes with cigarette lighter adapter.
Use your incubator to move eggs without risking cooling.
Read More...
No other images available
Other products you might like

Thermometer For Brinsea Incubators in Centigrade.
Price: £11.55

Brinsea Mini II ECO 10 Egg Manual Incubator.
Price: £78.18
Brinsea Mini ADVANCE 2 Incubator.
Price: £143.92

Mini Advance Small Egg Disk - 12 Egg Capacity
Price: £15.99

Brinsea Mini Advance Large Egg Tray - 7 egg capacity
Price: £15.99