Categories
Shop by supplier
Information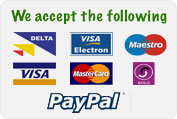 Thermometer For Brinsea Incubators in Centigrade.
Thermometer For Brinsea Incubators in Centigrade.
A replacement liquid in glass 6" incubator thermometer for all Brinsea Incubators.
Manufactured to Brinsea's specification, it covers the temperature range 25 - 41ºC with high accuracy necessary for incubation use.
Suitable for the Mini Eco, Octagon 20 Eco and Octagon 40 Eco, Polyhatch and Hatchmaker incubators
Fits Octagon Range, Mini Eco, Polyhatch, Hatchmaker, Hatchmaster A & H & Multihatch Incubators.
Also fits Brinsea Wet Bulbs.
Antrim, Armagh, Carlow, Cavan, Clare, Cork, Derry, Donegal, Down, Dublin, Fermanagh, Galway, Kerry, Kildare, Kilkenny, Laois, Leitrim, Limerick, Longford, Louth, Mayo, Meath, Monaghan, Offaly, Roscommon, Sligo, Tipperary, Tyrone, Waterford, Westmeath, Wexford, Wicklo.
Incubator Thermometer Ireland
Incubators Ireland
Incubators Parts Ireland
Read More...
No other images available
Other products you might like

Brinsea Mini II ECO 10 Egg Manual Incubator.
Price: €99.00