Categories
Shop by supplier
Information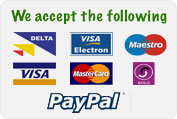 1.5 Litre Poultry Drinker & 1 Kg Tube Feeder Combo
1.5 Litre Poultry Drinker & 1 Kg Tube Feeder Combo
A Combination set for the small flock owner or for Poultry Breeding Pens.
Set comprises of a quality 1.5 litre poultry drinker & a quality 1 kg plastic poultry tube feeder.
About the feeder:

A click lock type plastic tube feeder to hold approx 1 kg poultry feed.
Can be used standing or hanging indoors. very good quality plastic poultry feeder.
Easy to clean & easy to fill up.
Suitable for grain, chicken mash & poultry pellets.
Suitable for all poultry & farm fowl. ( chickens, ducks, pheasants. )
About the drinker:

A click lock type poultry drinker.
Complete with carrying or hanging handle.
Holds approx 1.5 litres of drinking water for your birds.
Read More...
No other images available
Other products you might like

Stockholm Tar. 450g
Price: €13.00

Poultry Zest Pellets. 500g
Price: €7.00

Aluminium Shade / Reflector for Heat Lamps.
Price: €12.30

Instructions For Westernette & Turkeybator Incubators
Price: €11.80

Hotline Deluxe 50m Poultry Netting Kit With Hot Gate.
Price: €295.00