Categories
Shop by supplier
Information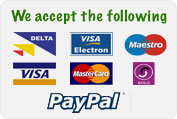 30 cm Hanging Galvanised Chick Trough
30 cm Hanging Galvanised Chick Trough
This Chicken Drinker / Feeder hangs on the side of the poultry cage, brooder or breeding pen.
This Feeding Trough is suitable for poultry pellets, chick crumb, wheat or dry mash.
As a Hanging Poultry Drinker it will hold just under 1 litre of water.
This Hanging Poultry Feeder is constructed from galvanised steel.
Back to
Poultry feeders
Read More...
No other images available
Other products you might like
Alke SK41 Gas Brooder. 500 chick.
Price: €115.00

Cage Feeder / Drinker
Price: €1.35

F10 Super Concentrate Discinfectant. 100ml
Price: €13.00
Aluminium Feed Scoop. 150 ml -150g
Price: €3.00

Aluminium Infra Red Brooder Lamp with 150w Bulb.
Price: €25.00
Chick Heat Plate / Electric Hen For 20 - 25 Chicks
Price: €35.00