Categories
Shop by supplier
Information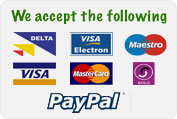 30 cm Hanging Galvanised Chick Trough
30 cm Hanging Galvanised Chick Trough
This Chicken Drinker / Feeder hangs on the side of the poultry cage, brooder or breeding pen.
This Feeding Trough is suitable for poultry pellets, chick crumb, wheat or dry mash.
As a Hanging Poultry Drinker it will hold just under 1 litre of water.
This Hanging Poultry Feeder is constructed from galvanised steel.
Back to Poultry feeders
Read More...
No other images available
Other products you might like

Cage Feeder / Drinker
Price: €1.50

F10 Super Concentrate Disinfectant. 100ml
Price: €14.00
Aluminium Feed Scoop. 150 ml -150g.
Price: €4.00

Aluminium Infra Red Brooder Lamp with 150w Bulb.
Price: €25.00
Chick Heat Plate / Electric Hen For 20 - 25 Chicks.
Price: €45.00