Categories
Shop by supplier
Information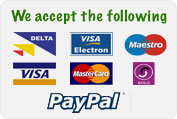 6 Litre Click Lock Chick Fount / Poultry Drinker
6 Litre Click Lock Chick Fount / Poultry Drinker
6 litre plastic poultry drinker / chick fount.
Complete with carrying handle.
Click lock base not usual push on vacuum type found on most poultry drinkers.
A good quality chicken drinker / chick fount.
Imported by us and not to be confused with cheaper variations
Read More...
No other images available
Other products you might like

Brinsea Mini 2 Advance Incubator & Brooder Starter Pack.
Price: €270.00
Hotline 25m Poultry Netting Kit With Hot Gate.
Price: €290.00 €230.00

Aluminium Infra Red Brooder Lamp with 150w Bulb.
Price: €25.00
Chick Heat Plate / Electric Hen For 20 - 25 Chicks
Price: €35.00
Treadle Feeder for Poultry. 5kg Capacity.
Price: €39.00

EcoGlow Safety 2000 Brooder. 50 Chick.
Price: €90.00