Categories
Shop by supplier
Information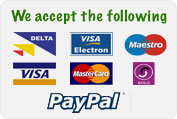 6 Litre Click Lock Chick Fount / Poultry Drinker. No stock until early August
6 Litre Click Lock Chick Fount / Poultry Drinker. No stock until early August
6 litre plastic poultry drinker / chick fount.
Complete with carrying handle.
Click lock base not usual push on vacuum type found on most poultry drinkers.
A good quality chicken drinker / chick fount.
Imported by us and not to be confused with cheaper variations
Read More...
No other images available
Other products you might like
Hotline 25m Poultry Netting Kit With Hot Gate.
Price: £257.64 £204.33

Aluminium Infra Red Brooder Lamp with 150w Bulb.
Price: £22.21

Bristol Chicken Coop. 5 Hens.
Price: £217.66