Categories
Shop by supplier
Information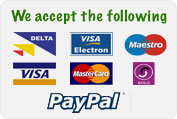 Infra Red Lamp / Bulb. 60 Watt
Infra Red Lamp / Bulb. 60 Watt
Will fit all our infra red lamp holders including the Reflect Cip.
Standard ES Screw fitting 60 watt infra red bulb / lamp.
Will fit most makes of infra red lamp holders taking a screw bulb.
Suitable heat output for all poultry, sheep, piglets & puppies
Read More...
No other images available
Other products you might like
Infra-Red Ceramic Lamp Holder
Price: €6.25

Chick Enclosure Panels.
Price: €25.00

Aluminium Shade / Reflector for Heat Lamps.
Price: €14.00

Aluminium Infra Red Brooder Lamp with 150w Bulb.
Price: €25.00
Chick Heat Plate / Electric Hen For 15 - 20 Chick.
Price: €40.00

Infra Red Lamp / Bulb. 100 Watt
Price: €7.50