Verm-X Cat Crunchies are a super-premium treat with the added Verm-X feline formula. The palatable biscuits are fed on a daily basis throughout the year, providing effective natural control of intestinal hygiene for your cat.

Verm-X Cat Crunchies are made with only the best unadulterated ingredients. Included in the recipe are real pieces of chicken and salmon together with a useful pro-biotic and the Verm-X feline formula of herbs.
Sort By:
Showing 1 to 2 of 2 (1 Pages)
Verm-x for Cats. 120g.
Price: €11.50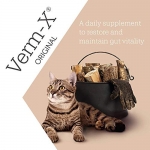 Verm-x for Cats. 650g
Price: €45.00